Back Door Front Pushing South Today Keeping Temps A Little Lower

Weather in 5/Joe & Joe Weather Show Latest Podcast
Back Door Front Pushing South Today Keeping Temps A Little Lower

The Eastern US is totally void of any moisture with the exception of a narrow strip of east west clouds and that marks a backdoor cold front that is moving southward. This is going to do nothing other than turn the wind to the northeast this afternoon. We are going to be enjoying manily sunny skies. A few areas may go partly sunny for an hour or two as the front sags southward. High temperatures this afternoon will be in the low to mid 50s. Obviously there are no radar issues today into Wednesday.
SATELLITE

WEATHER RADAR

Most lows tonight will be in the upper 20s to middle 30s under a clear sky. Wednesday the back door cold front will be lying to our south leaving us on the cooler northern side of the air mass. Skies should be cloudy to partly sunny with highs again in the low to middle 50s.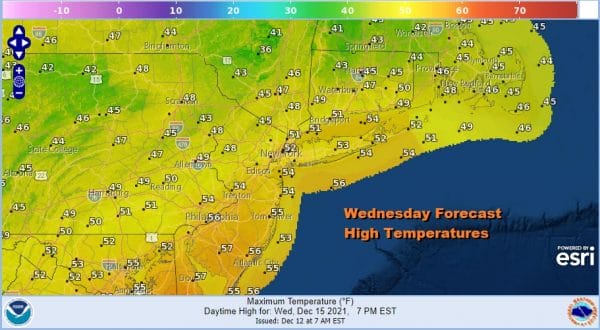 Late in the day Wednesday, today's back door cold front will be come Wednesday's warm front so look for some late day clouds moving in and there is the chance we could see a few passing showers Wednesday evening. It looks like the best chance for those showers will be from Northeastern PA and Northern NJ north and east and the rain will not amount to much.
Thursday the warm front goes by early and we have a day of some sunshine and a gusty west wind. That will certainly be enough to take temperatures into the 60s during the afternoon. Low pressure moving in Canada is so far north that the trailing cold front has absolutely nothing with it so I don't expect to see and showers when that front passes Thursday night.
This leaves us mostly dry for Friday but another storm system heads our way from the southwest bringing rain in early Saturday morning and then it looks to be on and off rain Saturday into Saturday night. It will be gone by Sunday morning making Sunday the better of the two weekend days. It will turn colder Sunday behind this storm system but we still don't see an serious cold air headed into the Eastern US anytime soon.

Please note that with regards to any severe weather,  tropical storms, or hurricanes, should a storm be threatening, please consult your local National Weather Service office or your local government officials about what action you should be taking to protect life and property.