AUTUMN AIR SHOT LATE WEEK WARMER WEEKEND
AUTUMN AIR SHOT LATE WEEK WARMER WEEKEND
With everything that is going on with Harvey & a possible tropical storm developing off the Southeast coast, lets look at what is happening locally which is relatively calm and nice for the rest of today. The two tropical systems standout on on the satellite loop but over New England is high pressure and that is making for a nice afternoon of weather with sunshine. We are seeing some patchy high clouds from a system over the Western Great Lakes. That system is the driver going forward as it should weaken enough to force any tropical storm off the Carolinas out to the east northeast and not up the coast. It will also draw Tropical Storm Harvey eastward and then northward back into East Texas and eventually carry it away to the northeast. We say eventually because that may take another 3 or 4 days to play out.
SATELLITE LOOP

REGIONAL RADAR

LOCAL RADAR NEW YORK CITY
For the rest of today and tonight there are no issues. Sunshine and high clouds will continue with highs in the 70s. Tonight should be partially clear for awhile but some clouds could come in by morning with most lows in the 60s, perhaps 50s in some of the cold spots.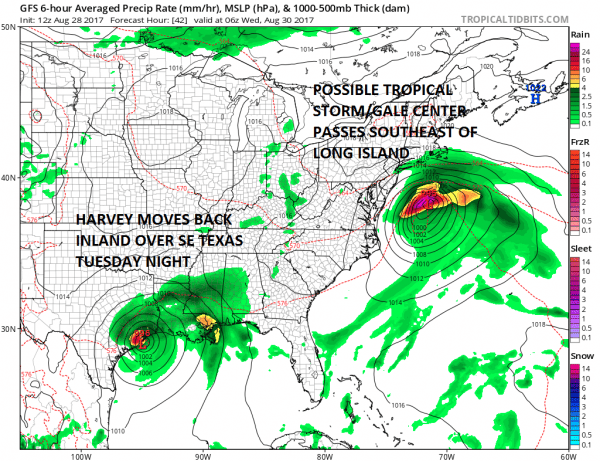 Tuesday begins the progress of the coastal low/tropical storm northeastward up the Southeast Coast. Tropical Storm Watch remains in effect for coastal South & North Carolina. Rain is showing up now on the radar along the coast of South Carolina and there is a broad circulation evident just of shore. An Air Force plane is investigating it right now.
LOCAL RADAR CHARLESTON SOUTH CAROLINA
Meanwhile Harvey is back out over the Gulf of Mexico just offshore near Matagora Texas. The Houston radar shows the center of circulation sitting right over the barrier islands. Movement is a slow southeast at around 5 mph. Heavy rains are once again getting generated as rich gulf moisture continues to rotate inland. Some areas could see an additional 2 feet of rain over the next 2 to 3 days.
LOCAL RADAR HOUSTON TEXAS

Weather models continues to suggest that Harvey may make a move toward Galveston Houston again with another landfall and some slight increase in strength is possible before a second landfall. Weather models also suggest that this may eventually move out of the way but not until Friday as the next trough in the Jet stream swings around and begins to pull this to the northeast toward the Tennessee and Ohio Valley over the weekend. Some of that rain (though nothing like what is falling now) could make it here later Sunday.
Cool Autumn Air Arrives Friday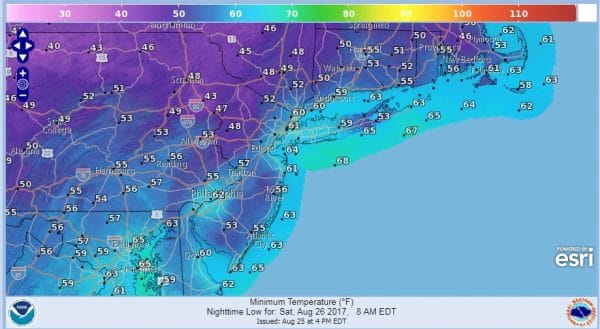 Wednesday with the coastal storm well offshore we should see sunshine with highs in the 70s to near 80. Thursday we have a cold front moving through and it may warm into the 80s ahead of it with a couple of showers or thunderstorms late in the day. Behind it will be a quick shot of very cool air coming for Friday into Saturday morning. Friday's highs may just be in the upper 60s to lower 70s and Saturday morning will be quite chilly with lows in the low to mid 50s and wide spread 40s north and northeast of the coast. It will be a quick shot however as it will be back in the 70s Saturday. Another cold front approaches Sunday with the chance for showers. There is a chance some of Harvey's remnant rains could get involved. Monday Labor day looks better with clouds and some sun and temperatures in the 70s to near 80.

GET JOE A CIGAR IF YOU LIKE 
FiOS1 News Weather Forecast For Long Island
FiOS1 News Weather Forecast For New Jersey
FiOS1 News Weather Forecast For Hudson Valley
LATEST JOESTRADAMUS ON THE LONG RANGE