Atlantic Hurricane Season Lull
Atlantic Hurricane Season Lull
Upper Air Pattern More Favorable Than 2015
[brid video="54209″ player="6390″ title="tropical"]
After the quick start to the hurricane season with 3 tropical storms in the late May mid June time frame, the Atlantic has settled down to the typical quiet you see during late June through at least mid July. This is not unusual and actually is probably an indicator that a more normal season is ahead of us. While the Atlantic sleeps at the moment the Pacific has awoken with a train of tropical storms that have developed.
On the East Pacific satellite loop above you can see 3 tropical systems in play. Hurricane Blas which is now a remnant low is the furthest northwest. Hurricane Celia is in the middle. Off the coast of Mexico we have a new tropical depression that is forming. Usually when the Atlantic is quiet the Pacific is active and visa versa. The Pacific took longer to wake up this season since it was silent until the beginning of July.
Atlantic Hurricane Season Western Atlantic Satellte Loop
The Atlantic satellite loops on the other hand show very quiet conditions from the Gulf of Mexico eastward through the Tropical Atlantic. For the time being there is nothing that looks even remotely interesting as far as development is concerned.
Atlantic Hurricane Season Tropical Atlantic Satellte Loop
However one thing we have noticed is the shear pattern across the Atlantic is a lot different now than it was last year. The areas in red show strong wind shear at the highest levels of the atmosphere. This is important because hurricanes thrive in light wind shear environments. Light winds aloft allow for hurricane cloud tops to develop to very high levels of the atmosphere. The absence of shear keeps those tops in place. Otherwise the strong cross winds would rip those thunderstorms and the circulation center apart.
Atlantic Hurricane Season
Wind Shear at 250/850mb
One of the biggest changes from last year is in the Gulf of Mexico which was dominated by strong wind shear throughout the entire hurricane season in 2016. In the light blue and white are areas of light wind shear and we see a large portion of the area south of 30 degrees north sitting in a light wind shear environment. The question going forward is if this overall upper air pattern now is what we will see come the end of July and for August and September. Last years profile was typical of an El Nino summer. This look above is different from that.
Atlantic Hurricane Season Ocean Water Temperature Anomalies
The Atlantic Ocean sea surface temperatures are running a little bit above normal across the entire region with the biggest anomalies at the moment in the Gulf of Mexico. It is interesting that the ocean close to our coastline is also running well above normal by 2 to 3 degrees. This is probably due to the persistent onshore flow we have experienced for the last 5 weeks or so. Also note there is a pool of cooler than normal temperatures off the African coast and also a large areas of below normal temperatures off the Southwest coast of Europe that has been moving southward. This area will need to be watched closely if the southward drift continues.
Atlantic Hurricane Season Atlantic Sea Surface Temperatures
The actual water temperatures on the map above show a large area of ocean water temperatures above 27 degrees Centigrade which shows large extent of favorable water temperatures. Remember however that last year, water temperatures were well above normal throughout much of the Atlantic however the upper air conditions were very unfavorable most of the time. Also note the large area of 30 degrees C. water in the Northern half of the Gulf of Mexico. Should a hurricane form or enter that area, it will have a lot of warm water to feed off. 
Of course all of this is fine and dandy in theory. The test of all this will begin once disturbances begin to develop in the Atlantic. That time will be coming in a few weeks.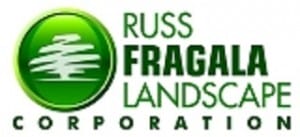 MENTION JOE CIOFFI AND GET A 5% DISCOUNT
FiOS1 News Weather Forecast For Long Island
FiOS1 News Weather Forecast For New Jersey
FiOS1 News Weather Forecast For Hudson Valley
NATIONAL WEATHER SERVICE SNOW FORECASTS
LATEST JOESTRADAMUS ON THE LONG RANGE
Weather App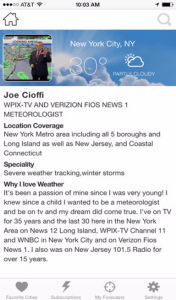 Don't be without Meteorologist Joe Cioffi's weather app. It is really a meteorologist app because you get my forecasts and my analysis and not some automated computer generated forecast based on the GFS model. This is why your app forecast changes every 6 hours. It is model driven with no human input at all. It gives you an icon, a temperature and no insight whatsoever.
It is a complete weather app to suit your forecast needs. All the weather information you need is right on your phone. Android or I-phone, use it to keep track of all the latest weather information and forecasts. This weather app is also free of advertising so you don't have to worry about security issues with your device. An accurate forecast and no worries that your device is being compromised.
Use it in conjunction with my website and my facebook and twitter and you have complete weather coverage of all the latest weather and the long range outlook. The website has been redone and upgraded. Its easy to use and everything is archived so you can see how well Joe does or doesn't do when it comes to forecasts and outlooks.
Just click on the google play button or the apple store button on the sidebar for my app which is on My Weather Concierge. Download the app for free. Subscribe to my forecasts on an ad free environment for just 99 cents a month.
Get my forecasts in the palm of your hand for less than the cost of a cup of Joe!