Arctic Front Arrives Strong Winds Rain Snow Showers Some Icing Possible
Coldest Christmas Since 1989

We continue to see a slew of watches warnings and advisories up for all of the Northeast and Mid Atlantic states. Overnight rains were substantial and they came with thunderstorms as the main storm in the Northern Great Lakes continues to strengthen and low pressure that formed off North Carolina last night moved northward and strengthened as well. Wind Advisories are up as winds are gusting to 50 mph or more at times along the coast. Later today once the arctic front passes we will see winds shift to the southwest and then to the west and howl with gusts of 40 to 50 mph for both the coast and inland. Flood watches remain in effect for much of New Jersey south to Delaware as there will be one more round of showers and thunderstorms later this morning into early afternoon. Coastal Flood Warnings are up for the high tide this morning with moderate coastal flooding likely and in some places on south facing shore lines of Long Island there could be major coastal flooding.
SATELLITE

WEATHER RADAR

The arctic front is next on the agenda today and with that we see an area of rain to the west that turns over to snow once the front passes through. This then comes with a dramatic fall in temperatures of 20 degrees or more in just a few hours time. This could create issues with moist surfaces icing up after the temperatures fall below 28-29.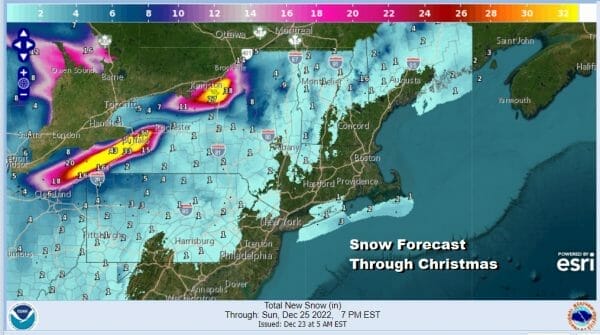 There isn't much to expect with regards to snow as we are talking at most a coating to and inch. I would put that chance in for everyone from Eastern Pennsylvania to Southern New England and just watch how the radar progresses as we move through the day. If it happens it won't last long.
Since we are seeing high temperatures being hit this morning in the upper 50s to around 60, by 7pm most places will be 40 degrees colder with temperatures in the teens just about everywhere and well inland we will see readings already dropping into the single digits.
This is a powerful arctic front and we will not hit bottom until Saturday morning. It will remain very windy through the overnight with gusts to 40 mph or more. Temperatures by morning will be in the single digits inland and 10 to 15 coast and warmer urban areas. Add the wind and we are talking wind chills below zero.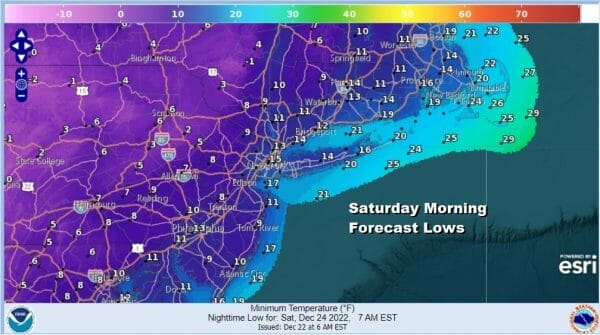 Saturday Christmas eve will be brutally cold with ineffective sunshine, a strong gusty wind of 30 to 40 mph or possibly higher. After hitting the lows in the morning high temperatures Saturday afternoon will only reach the upper teens and lower 20s and wind chills will be in the single digits.
Saturday night will be clear cold and still a bit on the windy side with lows once again in the single digits and teens Sunday morning. Sunday Christmas Day will be very cold again with ineffective sunshine. It will still be breezy at times but the wind will  not be as strong as Saturday. Highs will be in the low to mid 20s. This will be the coldest Christmas in 33 years.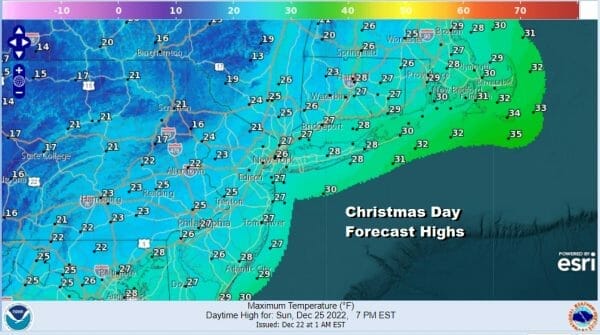 There is good news in the longer term. We will see the cold slowly ease and late next week a warmer pattern will take hold and we could be on the other end of the extreme temperatures for the arrival of the New Year with temperatures in the 50s to near 60! That will be something to look forward to.
BE SURE TO DOWNLOAD THE FREE METEOROLOGIST JOE CIOFFI WEATHER APP &
Please note that with regards to any severe weather,  tropical storms, or hurricanes, should a storm be threatening, please consult your local National Weather Service office or your local government officials about what action you should be taking to protect life and property.