Another Warm Night Low Clouds Fog Cooler Air Arrives Over The Weekend
JOE & JOE WEATHER SHOW THURSDAY OCTOBER 22, 2020
WEATHER IN 5 THURSDAY OCTOBER 22, 2020
Wash rinse repeat has been the theme all week along. We start the day with low clou
A warm humid day ends and another sticky night is underway and that means another night of low clouds and some fog developing. Some areas today struggled with cloud cover while others broke out into sunshine. We are starting to see the high to the east gradually weaken. Hurricane Epsilon is passing east of Bermuda and once it makes the turn northeast and starts to accelerate, it will allow the high to slowly give way. Lows tonight will be in the mid 50s to lower 60s. Radars remain quiet locally and most of the Northeast and Middle Atlantic states are seeing quiet radars as well.
SATELLITE

REGIONAL RADAR

Friday will be one last day of low clouds giving way to sun with highs reaching into the 70s. Then a cold front finally is allowed to approach Friday night and pass offshore Saturday morning. This will shift the wind around to the northwest and we will see clouds early giving way to some sunshine on Saturday.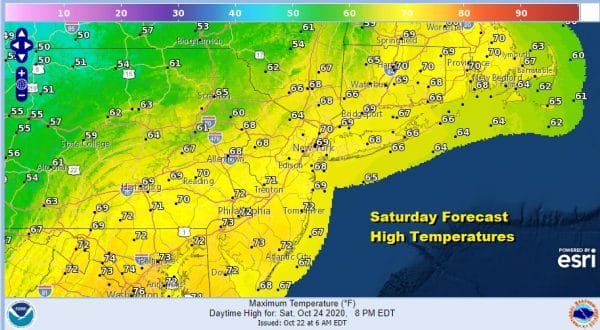 Highs will still be in the upper 60s and lower 70s but cooler air arrives Saturday night and Sunday as high pressure builds from the Great Lakes into upstate NY and Northern New England. Sunday morning lows will be mostly in the upper 30s to mid 40s with a nice north breeze.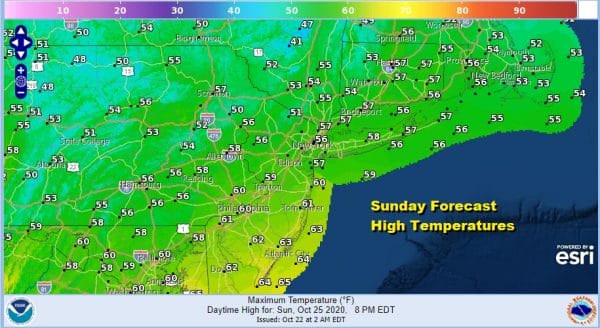 Sunday looks like a nice day overall with no worse than partly sunny skies. The high to the north will start to give way later in the day and perhaps some clouds will start to show up during the mid or late afternoon but no rain is forecast. Highs however as the map shows will not get out of the 50s making for a cool autumn day.
Next week the action shifts a bit further east but the main zone of action is likely to be north and west of the coast until late in the week when low pressure comes out of the Southern Plains and heads northeastward. That system could be loaded with moisture but we will deal with that over the weekend. Monday look for clouds around with some scattered showers. There might be some more scattered showers late Tuesday but again more to the north and west of the coastal plain. Perhaps it will be dry for midweek and then the late week system heads our way.
MANY THANKS TO TROPICAL TIDBITS FOR THE USE OF MAPS
Please note that with regards to any severe weather,  tropical storms, or hurricanes, should a storm be threatening, please consult your local National Weather Service office or your local government officials about what action you should be taking to protect life and property.