Another Warm Humid Day Cold Front Friday Dry Air Arrives During Saturday
The day begins with sme showers and downpours moving through the southern half of New Jersey that is moving southeast and should be offshore in short order. Otherwise today it will be a day of clouds and some sunshine. Humidity continues to run on the high side making it uncomfortable. Temperatures today will have a tougher time moving higher because of the cloud cover so highs will be in the 70s along the coast and inland areas should top out in a range of 80 to 85. Further south where clouds will take longer to break, highs will be closer to 80 degrees.
SATELLITE

WEATHER RADAR

We have a warm muggy night ahead with lows in the mid 60s to lower 70s. Friday will be a very warm and humid day with some sunshine. We will throw in the chance that there could be a scattered shower or thunderstorm but the next cold front is slowing down a bit as it moves eastward so it is quite possible that no one sees any showers or thunderstorms during the day Friday. Highs will be in the mid to upper 80s.
The cold front will move overhead Friday night and a wave develops on the front so we will likely see showers Friday night with the tail end of the showers early Saturday morning. Once the wave goes by, weather conditions will start to improve with decreasing clouds and increasing amounts of sunshine.
Dew points will start to drop during Saturday into the upper 50s and lower 60s by late Saturday afternoon as dry air gains a foot hold. Temperatures Saturday will reach 80 to 85 depending on how much sun develops. If the front is a little faster than the clearing could occur soon which will nudge the temperatures a little higher but the humidity levels will also be nudged a little lower.
Sunday will be a beautiful day of sunshine and pleasant conditions. Dew points will be in the 50s everywhere making for a very comfortable day. Afternoon highs Sunday will be in the lower 80s with some cool spots in the upper 70s north and west of coastal locations and warmer urban centers.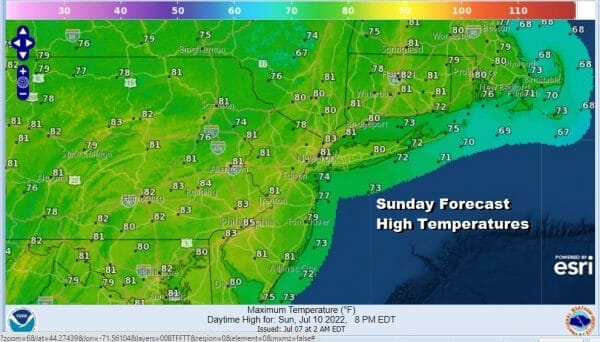 A strong high coming down from Canada will settle in the Mid Atlantic states Monday. The air will still be dry and comfortable with dew points in the 50s. Look for lots of sunshine and temperatures just a little higher within a range of 80 to 85 degrees. The next cold front will arrive late Tuesday with the chance for showers and thunderstorms when it passes and right now another dry air mass should move in behind it for the second half of next week.
Please note that with regards to any severe weather,  tropical storms, or hurricanes, should a storm be threatening, please consult your local National Weather Service office or your local government officials about what action you should be taking to protect life and property.