Another Cloudy Raw Rainy Day Snow Ice Shift North
Winter Weather Advisories will be discontinued later this morning across Northwest New Jersey Northeast Pennsylvania and the lower Hudson Valley but continue for areas north and northeast across the Middle and Upper Hudson Valley as well as Northwest Connecticut northward into Central and Northern New England. There really isn't too much happening today in our neck of the woods other than some patchy light rain or drizzle. Cold air is trapped in some valley areas where temperatures are near or below freezing creating a few slick spots in the advisory areas. Also we have coastal flood advisories from New Jersey to Southern New England and Long Island for another round of minor to patchy moderate coastal flooding at high tide today.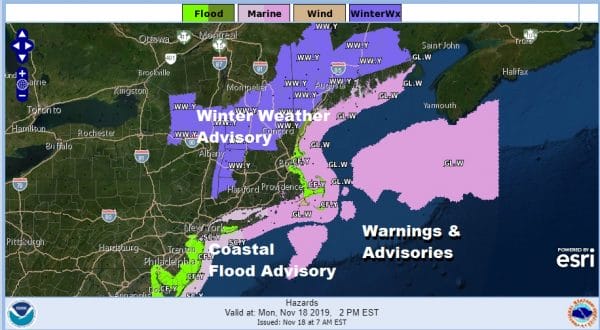 Our coastal storm is moving northeastward offshore and while you can pick out the storm center on the satellite picture this morning, there appears to be a rather disjointed nature to this system. Most of the heavier moisture is sitting north and east of where the low center is and there even appears to be a second center of some sort to the northeast of a weak low level center. This keeps steady rain well to the north and east of us and the numbers remain unimpressive.
There are some higher cloud tops to the west showing up this morning and this is response to the upper trough that is beginning to swing east and lift the coastal low to the Northeast. We could see a bit of enhancement to rain later today but there really isn't much around at the moment.
SATELLITE

REGIONAL RADAR

All we are seeing on the regional and local radars this morning are some patchy areas of light rain and drizzle that aren't amounting to much with some heavier rain southeast of Cape Cod moving northwestward. Further north there is little or nothing happening at the moment.
LOCAL RADAR NEW YORK CITY
LOCAL RADAR PHILADELPHIA

Frankly i continue to be underwhelmed by all this. Look for a cloudy raw day with highs just into the 40s along the coast and mostly in the 30s inland. Any snow and ice will be confined to areas well to the north and west of our zone in Eastern Pennsylvania to Southern New England and areas that are under advisories won't see much from this if any at all today.
We may get some rain this evening and tonight but this should all come to an end before daybreak Tuesday. Look for developing sunshine and leftover clouds Tuesday with highs into the 40s. Wednesday and Thursday appear to be dry and chilly both days with some sunshine. Friday brings the next cold front with the chance for showers. We will go through the week ahead forecast in greater detail later today. You can check the current outlook for your zone by hitting the local forecast tab on the app.
MANY THANKS TO TROPICAL TIDBITS FOR THE USE OF MAPS
Please note that with regards to any severe weather,  tropical storms, or hurricanes, should a storm be threatening, please consult your local National Weather Service office or your local government officials about what action you should be taking to protect life and property.