An Easter Sunday of Sunshine Much Warmer Week Ahead
80s to near 90 Degrees Not Impossible

Easter Sunday is here and we have a very nice sunny day ahead of us. Low pressure is off the the Carolina coast this morning and as the satellite loop shows, those clouds are heading to the east and so is any of the rain that is in Southeast Virginia and North Carolina. Temperatures today will be in the mid to upper 50s in spite of what should be all day sun but this is the last day of below average temperatures for the next week or so.
SATELLITE

WEATHER RADAR

We have at least 6 and possibly 7 days of no rain to look forward to. We also have a week of above average temperatures ahead of us. It will also be a week where except for local sea breezes on certain days, the northwest or west wind will be in control thanks to highs to our south and west. Onshore flow issues will be mostly non existent all week and that ultimately means that temperatures will be heading for the 80s later this week.
We can also put away any of the silliness regarding a subtropical storm in the Gulf of Mexico as advertised by some outlets. With all this in mind we will see temperatures climb each day this week with sunshine. Other than late Tuesday into Wednesday when a weather front passes through with nothing of consequence, we could see breezy conditions for that time frame.
Monday will be mostly sunny with highs in the 60s. Tuesday we should reaching into the 70s in most places. Wednesday we will be in the 70s to around 80 degrees. Thursday and Friday will be push our numbers into the 80s. This is a time of year where there can be upside to forecast highs since models never seem to warm it fast enough under a strong April sun.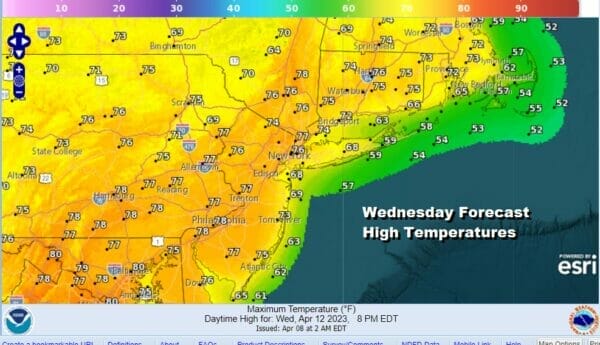 We see the forecasts are for mostly lower 80s Thursday but we can easily see these numbers finish up 5 degrees warmer than advertised so we will lean more to middle 80s. Friday we see forecasts for middle 80s so this might be a day where temperatures could make a run for 90 degrees inland. One thing about getting warm this early in the spring, it usually comes with very low humidity and that will be the story all week long.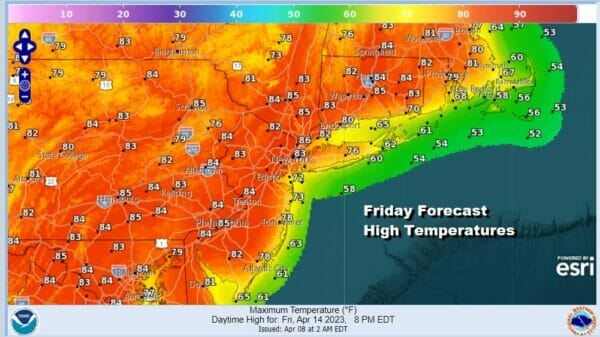 In spite of the rising temperatures dew points will be low and this could lead to some brush fire risk especially late Tuesday and Wednesday when the winds will be on the gusty side. No rain is forecast for 7 days which includes today so that takes us through next Saturday. The next chance for rain with a cold front will probably come a week from today. Happy Easter to you and your family! Enjoy the day.
Please note that with regards to any severe weather,  tropical storms, or hurricanes, should a storm be threatening, please consult your local National Weather Service office or your local government officials about what action you should be taking to protect life and property.