With the core of the cold air rapidly pulling out to the east, temperatures have rebounded back into the 50s fairly quickly from the morning lows which were in the 20s in many locations. Plenty of sunshine and a west wind will do the job fast this time of year and it appears that the rebound back to above normal temperatures will come in faster as well.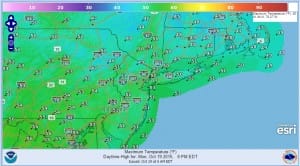 Tonight I think temperatures stay not only above freezing but in many areas we could see lows in the 40s. Only the coldest spots will see temperatures in the 30s and it may stay above levels where any frost forms. Even if we chill off during the first part of tonight, temperatures will hold or even rise a little bit toward morning. That sets the stage for a good launching pad on Tuesday highs on models may be a bit underdone.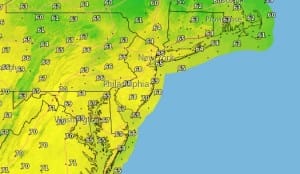 Wednesday we should be in the 70s everywhere. Other than passing clouds we should see a good amount of sunshine.
Here is the latest weather forecast from FiOS1 News Meteorologist Brian Fitzgerald. I will be on tonight beginning at 5pm

The next front on Thursday appears to come through mainly dry with just a few clouds. Temperatures will be in the 70s but cooler air (not cold air) comes on Friday and for the weekend. As of right now no rain is forecast at least through Saturday. Beyond Saturday another front will approach on Sunday and this front also will have limited moisture with it. There are no big storms on the horizon over the next 7 days. Beyond that the models become a little hazy as we indicated yesterday and they are still going in all sorts of directions. JOESTRADAMUS will attempt to rectify this later today