After Ida Departs Dry Cool Air Mass Kicks Off Labor Day Holiday Weekend

Weather in 5/Joe & Joe Weather Show Latest Podcast
After Ida Departs Dry Cool Air Mass Kicks Off Labor Day Holiday Weekend
As Ida transitions into a non tropical storm or a post tropical storm system we are also going to benefit after it passes to the northeast. An upper trough moving across the Great Lakes will strengthen when it reaches Eastern Canada and as the two systems hook up, they will bring down a nice dry cool Canadian air mass into the Northeast and Middle Atlantic States. You will notice it arriving Thursday as the dew points drop and temperatures will follow.
Dew points drop down into 40s and 50s up and down the East Coast later Thursday and that dry air stays with us into the start of the weekend. Starting with Friday, getaway day, we will see mostly sunny skies with most highs in the 70s.
Saturday will also be a beautiful day of sunshine with temperatures topping out in the middle to upper 70s. While the core of the dry air mass moves offshore, the humidity Saturday will still remain quite low. This may wind up to be the best of the 3 weekend days.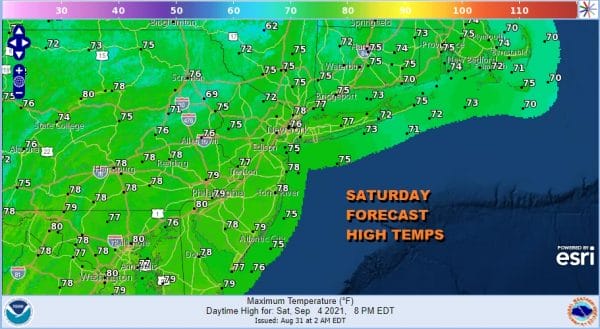 Sunday the humidity levels will be coming up a bit as will the temperatures but it will still be relatively comfortable. A northwest flow in the upper atmosphere will keep temperatures and humidity from getting out of hand. We do have a weak cold front that will approach and that might trigger off a late day passing shower or thunderstorm inland but overall Sunday should be partly sunny with highs reaching the upper 70s and lower 80s.
There might be a few passing showers or a thunderstorm Sunday night but Monday should be no worse than partly sunny. The humidity may actually go down a bit behind the front even though there won't be much of a change in temperatures. Highs will again be in the upper 70s. and lower 80s.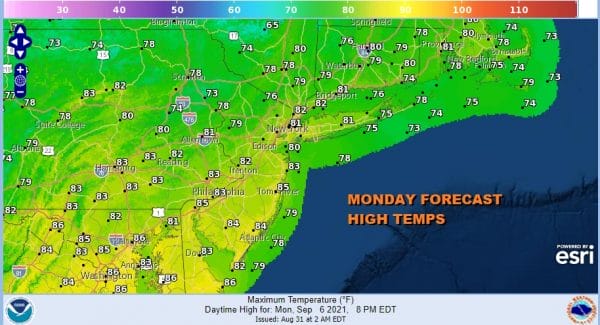 The northwest flow from Canada which was a dominate feature back in June and July took a bit of a break in August but it comes back late this week and hold for much of next week. This will keep temperatures at seasonal levels with reasonable humidity most of the time. The next important cold front probably doesn't get into the Eastern US until late next week so in theory we will be mostly rain free once Ida leaves for 6 or 7 days with just minor interruptions. The prior holiday weekends were not good ones but this one definitely will be the best of the three.

Please note that with regards to any severe weather,  tropical storms, or hurricanes, should a storm be threatening, please consult your local National Weather Service office or your local government officials about what action you should be taking to protect life and property.