DOWNLOAD MY NEW FREE JOESTRADAMUS WEATHER APP FOR ALL DEVICES
THE APP IS ABSOLUTELY FREE TO ALL BUT CONSIDERING SUBSCRIBING TO PATREON FOR A WEATHER EXPERIENCE FREE OF ADS, EXCLUSIVE VIDEOS FOR MEMBERS ONLY AND MUCH MORE…STARTS AT $2 A MONTH..MESSAGE ME AT ANY TIME
Active Wet Pattern Ahead Next 7 Days
The Plains blizzard and a major storm signals a wet period of weather ahead and it would be wise to take advantage of any nice days that pop up in between weather systems. The first system comes through Friday night into Saturday morning and this one will be the weakest of the three. The Plains storm has reached its peak intensity today and heads far to our west so the cold front will some showers with it Friday night into Saturday morning but it won't be a big rain producer.
System number 2 is for Sunday night into Monday early afternoon. This will be produced from a new storm that develops in Texas later Friday and heads northeast to the Ohio Valley and then northeast from there into the Saint Lawrence Valley. This one will have Gulf of Mexico moisture to play with and will likely produce 1 to 2 inches of rain area wide beginning late in the day Sunday or for sure Sunday night into midday Monday.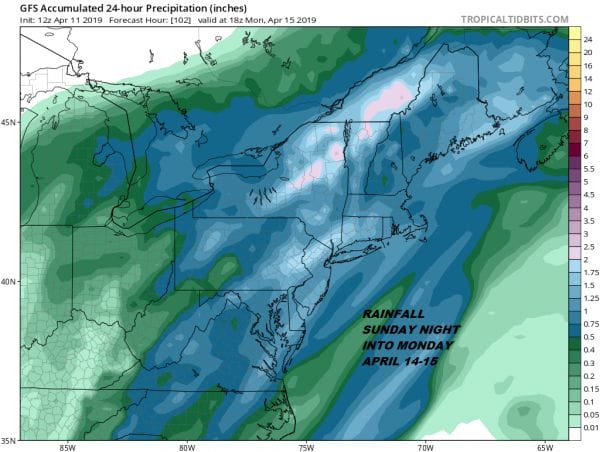 System number 3 will be late next week for Friday into early Saturday on this very early look and weather models are also bullish with rainfall from this system. This one is likely to be the strongest of the three weather systems in play.
What is happening is that as each system goes by the mean jet stream trough shifts further east with strong short waves dropping in every couple of days. You can see this on the loop below. The first system Friday night moves into the Great Lakes which is the weakest. The second one is further east when it swings around for Sunday night and Monday followed by the third which is the deepest and furthest east of the three.
There are also going to be chances for showers in between the Sunday night Monday system and the one for next Friday which means dry periods will be rather short in duration so do take advantage when you can. The chances for dry weather will likely limit outdoor work and other outdoor activities. Add everything together and you have a months worth of rain coming in this long range period.
Specifics regarding each system will be addressed in short term weather outlooks when it comes into range. Right now we are focused on the first two weather systems for Friday night into Saturday morning and Sunday night into Monday morning. As far as the weekend is concerned Saturday is the better of the two days and we are still on course to see some sunshine developing during the day Saturday with temperatures reaching the 70s.
MANY THANKS TO

TROPICAL TIDBITS

FOR THE USE OF MAPS
Please note that with regards to any tropical storms or hurricanes, should a storm be threatening, please consult your local National Weather Service office or your local government officials about what action you should be taking to protect life and property.