A Windy Cold Palm Sunday Week Ahead
Brings Another Warm Front Cold Front Late Week

It is a cold Palm Sunday behind yesterdays rather wild day. The evening brought severe weather especially over Eastern Pennsylvania and New Jersey where we had numerous severe thunderstorm and tornado warnings. NWS Mount Holly New Jersey will be investigating no less than 4 areas to see if they indeed had tornadoes. Meanwhile today is a cold and windy day for early April and Palm Sunday. We are going to see a good deal of sunshine but there will be a gusty wind and high temperatures this afternoon will only be in the upper 40s to lower 50s. That is about 5 to as much as 10 degrees below average as we should be in the mid to upper 50s for highs in early April. Winds should start to ease some during the late afternoon.
SATELLITE

WEATHER RADAR

There are no issues to be concerned with on the radar as it is quiet across the Northeast and Mid Atlantic states. Skies tonight should be mostly clear with light winds and lows in the 20s inland and lower 30s warmer urban areas. Monday looks to be a nice day overall with sunshine. There is a weak cold front that will be moving south from Upstate NY and there may be some showers well to the north of Route 84. This front should not make it this far south. Highs will reach the 60s inland and west but there will be a bit of a south wind and that means coastal locations will likely be in the 50s and parts of Southern and Southeastern New England and Long Island will not get out of the 40s.
Moving along this week we see another strong storm will be coming out of the Rockies and strengthening into a major storm that will head for the Northwestern Great Lakes and eventually into Canada. This storm is similar to the system late last week and will likely be another potential big severe weather producer over the Mississippi Valley and parts of the Midwest.
The difference this time around is that the storm tracks much further north when it heads into Canada and that should mitigate severe weather issues once the system reaches the East Coast. Tuesday with a west wind and sunshine for most of the day, highs will be nice and warm reaching 70 or better in most areas with the exceptions being the immediate coast and south facing shorelines where the sea breeze will take hold in the afternoon.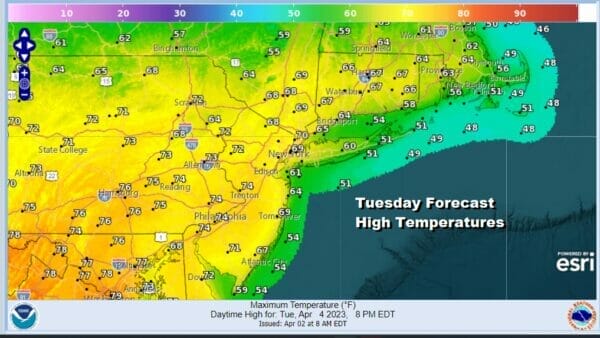 Wednesday we will start to see the impacts of that next storm heading for the Northwestern Great Lakes. Severe weather will break out across much of the Mississippi Valley and Ohio Valley. A warm front tries to set up in the Eastern US but it will take its time getting going. That puts us in a place where will have wider temperature ranges Wednesday with more of a south wind.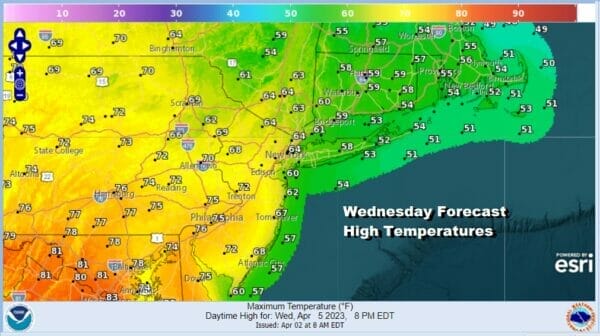 From NYC eastward Wednesday we will be in the 50s to lower 60s while south and west of Philadelphia we will be in the middle to even upper 70s. Showers will develop later in the day and into Wednesday night. Thursday sees the cold front approach so we will look for the chance for showers and thunderstorms as front passes. Thursday highs will be in the upper 60s to mid 70s.
Friday will turn drier and much cooler behind this next cold front and highs will be back in the 50s with sunshine. Right now we think the Easter Weekend will  be dry and seasonal as long as low pressure to the south stays to the south, and right now it appears that it will do just that.
Please note that with regards to any severe weather,  tropical storms, or hurricanes, should a storm be threatening, please consult your local National Weather Service office or your local government officials about what action you should be taking to protect life and property.