A Reasonable Weekend Warmer Weather Week Ahead

Weather in 5/Joe & Joe Weather Show Latest Podcast
A Reasonable Weekend Warmer Weather Week Ahead
We are in the middle of May with the middle weekend of the month and it looks to be ok. We won't have picturee perfect conditions but they should be acceptable most of the time. Mornings start off with sunshine but because we have weak upper troughs moving through, look for patchy clouds to develop mid morning and lasting into the evening. Today we will see highs reaching the middle 70s in many areas away from the immediate coast.
A weak upper trough and a sea breeze front that moves inland could set off some scattered showers or an isolated thunderstorm inland. Most of you won't see one and if you do it won't last long. It is likely that the areas near the coast won't have a shower risk with a more stable atmosphere.
SATELLITE

We will clear out tonight with most lows in the upper 40s to mid 50s. Sunday starts with sunshine but once again clouds will develop especially inland. There is perhaps a better chance for some scattered showers or a thunderstorm inland. We will probably see more clouds than sun on Sunday vs Saturday and temperatures will be shade lower. Highs will be in the upper 60s and lower 70s.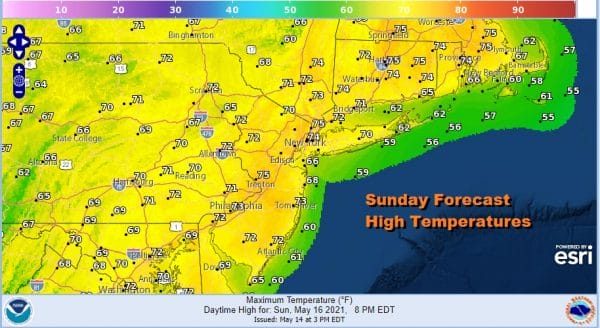 Next week we will trend warmer. After showers move out Sunday night and we chew through some leftover clouds we should go partly sunny later in the day. Highs will be in the upper 60s and lower 70s. Beginning Tuesday temperatures will trend higher as a strong upper ridge (finally) builds into the Eastern US and sends warm air northeastward through the Ohio Valley to New England.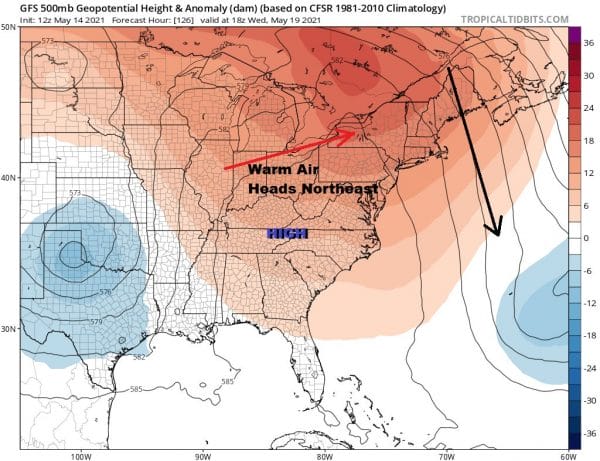 Tuesday we will have sunshine and temperatures will reach the middle to upper 70s. Wednesday we should start to see 80 degree or higher highs away from the ocean and that continues on Thursday which should be the warmest day of next week. Highs could reach the low and middle 80s provided we have enough sunshine and and I believe we will both Wednesday and Thursday.  No rain is in the forecast all week. We will have to see if a back door cold front moves southward at the end of the week putting a lid on temperatures but for now the back door front doesn't appear to be all that strong. The ridge in the East will try and hold and even if it gets through, it could force it back northward next weekend.

MANY THANKS TO TROPICAL TIDBITS FOR THE USE OF MAPS
Please note that with regards to any severe weather,  tropical storms, or hurricanes, should a storm be threatening, please consult your local National Weather Service office or your local government officials about what action you should be taking to protect life and property.