A Little Touch of Snow For Some Thursday Night Into Friday Morning
Rain Christmas Day

Weather in 5/Joe & Joe Weather Show Latest Podcast
A Little Touch of Snow For Some Thursday Night Into Friday Morning
Rain Christmas Day
A coastal low has now moved away to the northeast and we have seen weather conditions improve quite nicely this afternoon as sunshine has broken out everywhere. Temperatures made it up to the low and middle 40s. Drier colder air is coming in on the backside of the low so as skies should be clear tonight, it sets us up for lows Thursday morning in the 20s everywhere. Radars are showing some lake effect action going on in Upstate NY and we are getting a little backside snow from the coastal low east of Maine in Northern New England. All of this winds down overnight.
SATELLITE

WEATHER RADAR

Thursday will be a sunny day at least at the start before some high clouds start to come in from the northwest. Highs Thursday will be in the mid to upper 30s making it actually a little below average for this time of year. Thursday night offers the opportunity for a cheap thrill for snow lovers. Weak low pressure is moving southeast from the Great Lakes with limited moisture. The NAM model has been coming in a little further south over the last few days. This really doesn't amount to much and from the Poconos to the Catskills to the Hudson Valley, Southern New England and Long Island, someone might wind up with a few snow showers or at most a light coating.
Friday Christmas Eve will be a dry day with clouds and some sun, followed by more clouds late in the day and evening. Highs will be in the 40s. Then the next weather system, this one a little stronger moves east and rain comes in Friday night into Christmas Day.
The rain is going to line up east west across the northern half of Pennsylvania to Northern New Jersey, NYC and Long Island so south of there, it may not do very much other than remain rather cloudy. In those areas Christmas Day highs will reach the 50s while where it does rain temperatures will settle in the 40s.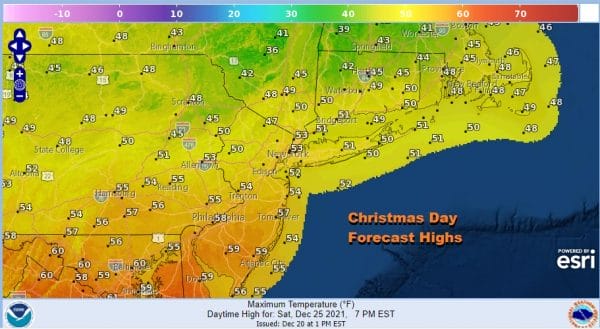 The low pulls away from Cape Cod Sunday so the rain will be long gone. Weather conditions improve and we see some sunshine and a gusty wind. Leftover highs from earlier in the day will be in the upper 40s to lower 50s. Next week its more of the same with weak systems moving east which may or may not get suppressed. One approaches Monday which the GFS kills to the south and then another approaches Wednesday with some rain. No major storms are on the horizon for the next 10 days at least.

Please note that with regards to any severe weather,  tropical storms, or hurricanes, should a storm be threatening, please consult your local National Weather Service office or your local government officials about what action you should be taking to protect life and property.