Long Island Weather Forecast For Tuesday
A raw damp day ahead with overcast skies, a wind off the ocean and some on and off rain. FiOS1 News Meteorologist Brian Fitzgerald has the latest Long Island weather forecast and I will be on this evening beginning at 5pm.
Forecast Models Continue Bullish For 1-2″ Rainfall
Forecast models overnight on both the GFS and the Nam continue rather bullish over 2 day rainfalls on the order of 1 to 2 inches. Based on what they are showing and the latest signatures on the satellite and radars as of this post we believe that this is the right approach. The tough part is that the rain is not continuous and that it will be coming in waves. The first one is due at day break. Eastern areas (Long Island and Connecticut) may take a little longer in seeing all of this getting underway but it looks like eventually all areas will get their fair share when you add everything up together.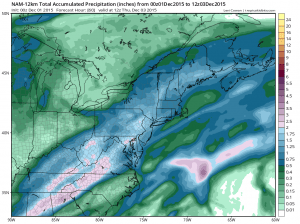 This is a 2 day event with a wave developing on a warm front to our south. This makes Tuesday a rather raw and damp day with temperatures struggling though they will eventually reach 50 or better, possibly during tomorrow evening or night, while inland areas north and east may have to wait a little longer for the colder marine air to dislodge. Look for rain during the morning commute of varying intensity. Much of what falls on the first shot will be of the light and annoying variety
Keep an eye on the radar above as this is where the second area of rain will emerge from for later Tuesday into Tuesday evening. The weather system in the Western Great Lakes will move east with a trailing cold front and this will bring a round of heavy downpours on Wednesday into Wednesday evening. Once the front passes then dry air returns for Thursday. The rest of the week looks good with some sunshine each day through the weekend. No other storms are on the horizon through Sunday.
Here is the forecast rainfall for Long Island over the next 2 days.
Long range the GFS model was rather interesting in its outlook down the road and we will evaluate this along with other models later this morning so look for a long range post at some point later today.
JOESTRADAMUS LONG RANGE POST TUESDAY
JOESTRADAMUS LONG RANGE POST FROM MONDAY
JOESTRADAMUS WINTER FORECAST 2015-2016