Wind Advisory Suffolk County Tonight Gusts to 50 MPH
WEATHER IN 5 TUESDAY 9/29/2020
JOE & JOE WEATHER SHOW MONDAY 9/28/2020 7PM
The approaching front tonight is coupled with a strong upper trough aloft. Some of those winds will likely mix down to the surface tonight as we get into rain and some thunderstorms. The National Weather Service has placed Suffolk County under a wind advisory for southerly winds gusting to 50 mph at times overnight.
Until this happens we will spend the remainder of the afternoon and evening with clouds and the occasional break or two of sun. Clouds are thickening up to the west and southwest and this will gradually take over later in the day. Temperatures are in the 70s and humidity levels will be high.
SATELLITE

REGIONAL RADAR

Two areas of rain are on the regional radar. The rain to the west is with the cold front and is making some eastward progress. Showers are moving north northeast from the Carolinas to the Delmarva Peninsula. Some of those scattered showers could move through during this afternoon but they will tend to be hit or miss.
LOCAL RADAR NEW YORK CITY
LOCAL RADAR PHILADELPHIA
Tonight comes the heavier downpours probably after 9 or 10pm. Some thunderstorms will develop and winds  will increase. Midnight to 6am should be the worst of it. 1 to 2 inches of rain seems like a good bet until the front passes offshore Wednesday morning. Rain should end between 8 and 10 am and weather conditions should improve afterwards. Leftover clouds Wednesday afternoon should break up enough to allow for some sunshine. Temperatures will be in the upper 60s to lower 70s.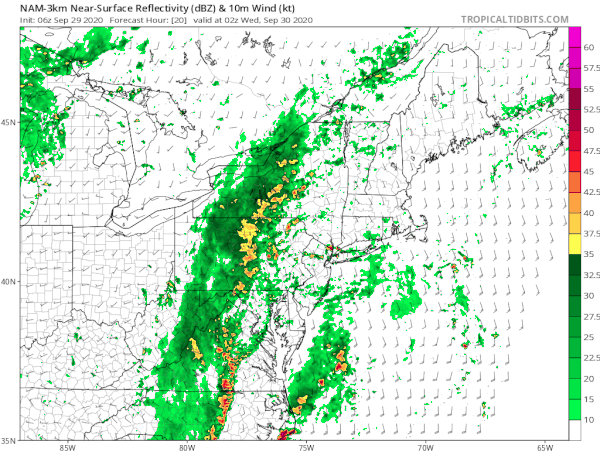 Wednesday's cold front is only the beginning as we have another cold front behind it with a stronger longer lasting shot of cool air. Thursday should be a decent day of sunshine and highs will be in the upper 60s to some lower 70S. Friday the second front arrives with a developing wave and that probably means some rain or showers with temperatures in the 60s.
This coming weekend will be dry and rather cool. We should see some sunshine both Saturday and Sunday though Sunday could also bring some arriving clouds. Highs both days will be just in the low to mid 60s with most nighttime lows in the 40s.
The active pattern continues with another system arriving with some rain for later Sunday night or Monday of next week. At least we are making up for the long dry streak we just went through.
MANY THANKS TO

TROPICAL TIDBITS

FOR THE USE OF MAPS
Please note that with regards to any tropical storms or hurricanes, should a storm be threatening, please consult your local National Weather Service office or your local government officials about what action you should be taking to protect life and property.
Support the free app by doing your Amazon shopping via the Joestradamus link. Just use the search bar and shop for your stuff! Thank you!