Its A Southern Thing Snow Stays South Nice Cold Weekend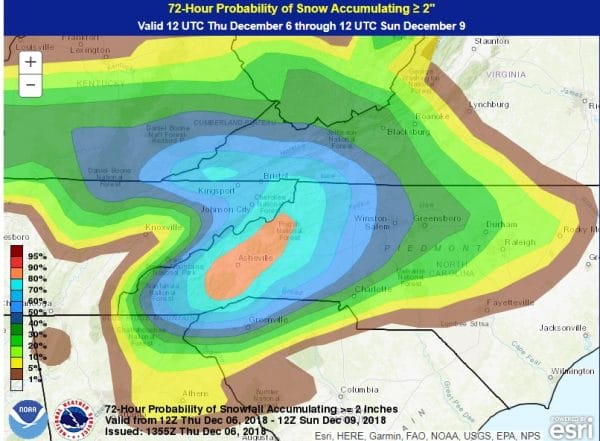 The upper air pattern continues to favor cold air coming into the Eastern US through the weekend. We have the arrival of another cold front tonight with a few passing snow showers and not much else. Then it is on to a dry stretch of weather that carries us into early next week. Snow lovers among you that keep hoping for last minute shifts (they would have to be monumental in scope) should put it to bed and move on. This system had staying south written all over it from the get go. The northern part of the jet stream is not getting out of the way. Get in the car and head south on I-81 south of Roanoke if you want to find big snows. An early look at the probability of at least 2 inches of snow, which in the south can shut a whole city down for days, is very high in the interior areas of the Middle Atlantic & Southeast. We still are watching weather models to see how they zero on on this storm system moving along the Gulf Coast and heading offshore of the Carolinas over the weekend.
The NAM model late this afternoon shows the system spreading snow into Virginia but you can see how the northern fringe of the snow gets cut off as the dry cold high to the north holds firm. The surface low passes well southeast of the North Carolina coast. The liquid precipitation from this system could total 1 to 2 inches so some of the mountains in the Carolinas into Southwest Virginia could see a foot or more of snow from this. Major cities like Charlotte, Greensboro in North Carolina and Roanoke, Lynchburg in Southwest Virginia  For us we are left with a cold dry weekend with no issues.
LONG RANGE WEATHER OUTLOOK
Looking at the teleconnections going forward it would appear that a pattern change is in order and to some degree the pattern will change a bit. We will be losing the flow of steady cold air in the east for awhile but this doesn't necessarily mean we are headed into a blowtorch pattern. In fact the weakly positive NAO (North Atlantic Oscillation) and the strongly positive Pacific North America Index (mostly ridge in west, trough in east) compensates somewhat for the off the wall positive East Pacific Oscillation (EPO) we see late next week. Afterwards the EPO does collapse rapidly toward the neutral line which brings to a week before Christmas. Weather models will be bringing weather systems through from time to time but it doesn't appear that anything major from a snow standpoint is in the offing for much of our area.
SNOW FORECAST MAPS ACROSS THE SOUTH
WESTERN VIRGINIA INTO WESTERN NORTH CAROLINA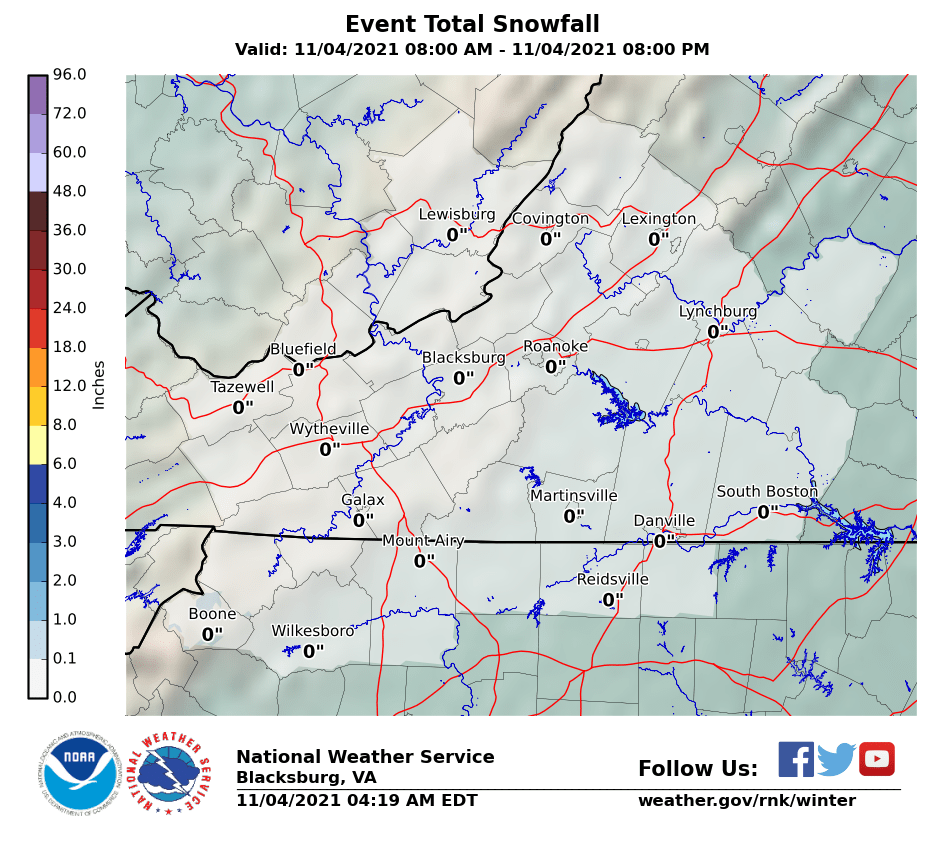 WESTERN NORTH CAROLINA & SOUTH CAROLINA
EASTERN NORTH CAROLINA
EASTERN TENNESSEE & SMOKEY MOUNTAINS
SOUTHEASTERN VIRGINIA
MANY THANKS TO

TROPICAL TIDBITS

FOR THE USE OF MAPS
Please note that with regards to any tropical storms or hurricanes, should a storm be threatening, please consult your local National Weather Service office or your local government officials about what action you should be taking to protect life and property.