After struggling with models for the last 5 days or so with flip flops back and forth north and south, it appears that much needed rain is coming for the entire area. Given we are in a drought pattern it may still find away to fall apart but we are hopeful that this will hold together for a solid 1 inch plus rainfall for everyone from New Jersey and Eastern Pennsylvania to Southern New England.
First off the next 2 days will be hot and humid and with all the kids back to school dress them nice and cool with temps forecast to go above 90 in many locations both days. Humidity levels will be higher as well. Showers and thunderstorms will begin their approach Wednesday afternoon and should be here by evening as the next weather front pushes through a little faster.
The gfs model has rain continuing on Thursday as the front slows down and stalls right on top of the coast and wave develops on it. This is what we are hoping happens as the wave will enhance the rain. What is also positive here is that it will be prolonged lasting into the early morning hours on Friday. Some bands of heavier rain are indicated.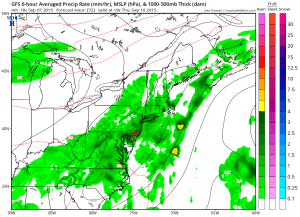 The wave moves offshore and heads northeast later Thursday and Thursday night as winds turn northeast. This is probably the best chance we have seen for a widespread rain in quite a long time.
Most of the models are robust with rainfall totals showing a solid 1 to 2 inches of rain. Only the NAM model shows lesser amounts. Given the pattern we are in it is probably smart to think that the amounts are on the high side but we are hopeful that this time models perhaps might under perform reality.
Once the front and wave push offshore, we should dry out during the day on Friday. The weekend has another system going by Saturday night with the chance for showers as the upper trough swings through. At least the hot weather will be gone for a few days as the pattern continues to transition into something perhaps a little different than what we have seen the last number of weeks. Don't be surprised if the east coast ridge reappears at some point next week but we shall let Joestradamus take a deeper look at the longer range.